Amelia is now six months old! It's amazing how time flies! Here are her stats:
Weight: 18 pounds, 6 ounces (90%)
Height: 27 inches (90%)
Head Circumference : 17 1/4 inches (85%)
We have a big girl on our hands! The doctor says she's "perfect". I'm sure she says that about all the babies!!! Amelia got more shots (ouch) and doesn't have to go back to the pediatrician until 9 months now.
Amelia has been sitting up really well lately although she doesn't sit by herself for long. She's also very active and loves to move around! She's still as curious as ever and wants to see everything!!
She is a big girl and we've moved to 9-12 month clothes already! She goes through things so fast! I think Santa is going to be putting new socks in Amelia's stocking because she's got big feet too!
Amelia has been eating really well at home (although I can't say the same for daycare). She LOVES prunes (as evidenced below!)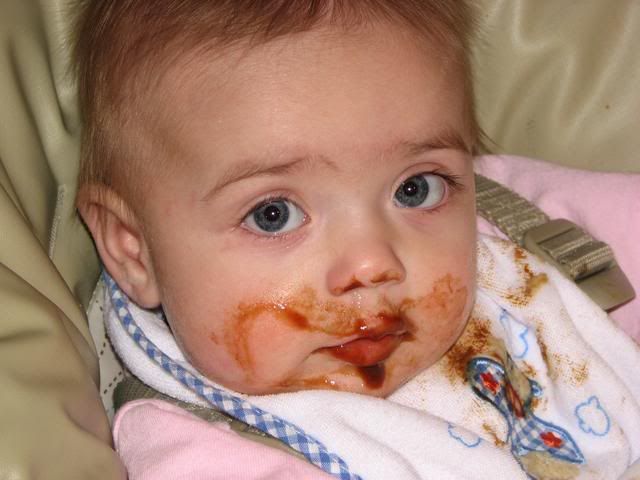 Amelia has about a week and a half left at daycare before she will be home with mom full time! It's going to be an adjustment (for both Mia and mom) but I'm looking forward to it.
So, wondering about the title of this post? Amelia has a LOT of nicknames in our house, "Mia" "Amelia Bedelia", "Amelia Forrealya", "Spikey the Dinosaur", etc. Well the last few days I've taken to calling her "Sweet Pea". Joe pointed out that it's not a very good nickname as Amelia HATES peas. He likened it to me calling him "Mr. Mayonnaise" as he hates the condiment with a passion :-) Ah well, some things just don't make sense.
Here are some more pics from the last few weeks:
(Amelia needs three toys, one for each hand and one on her arm for later!
Amelia and Joe (Amelia has a little prune on her shirt--the hazards of babyfood-feeding)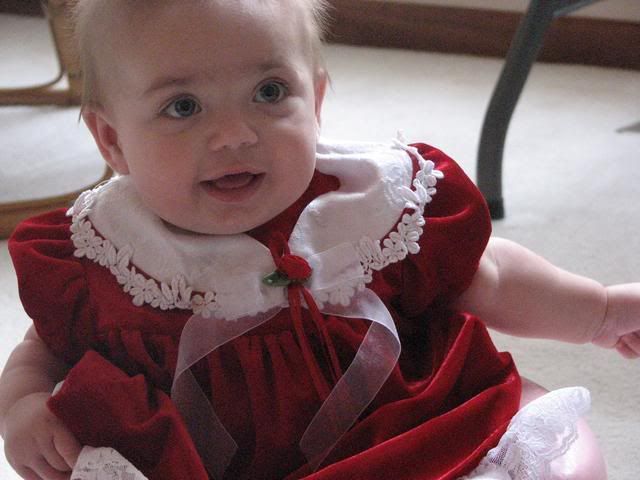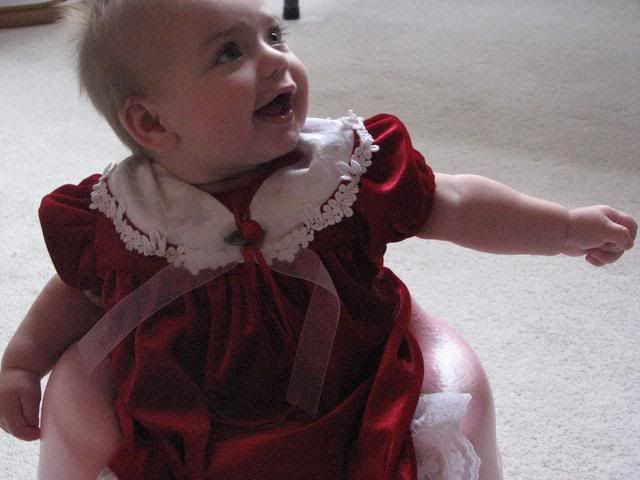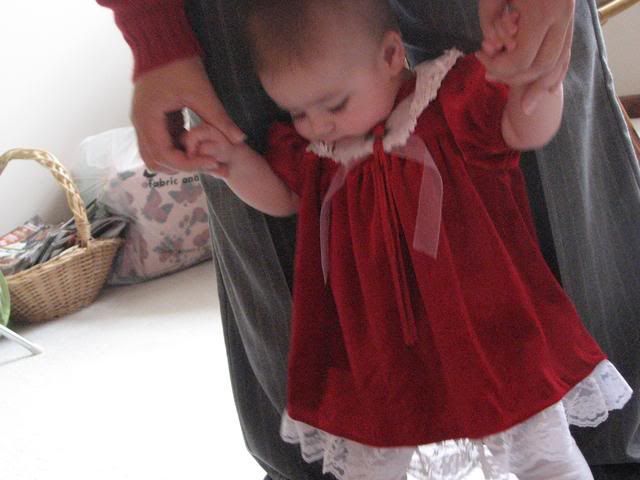 So many Christmas Pictures! Amelia has about three Christmas dresses so we've been making use of them all through the months of November and December. This was taken just before church last weekend!
That's all for now, thanks for reading!